METIS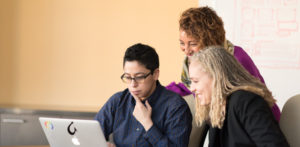 Managing METIS is one the main tasks of GeCo-GenderConsulting. The project, made by and for HU research alliances, is the only one of its kind in Germany.
The idea for METIS grew out of GeCo's work as a consulting service for research alliances looking to effectively implement equal opportunities measures. The project was developed by six research alliances at Humboldt‐Universität zu Berlin in summer 2018 and is financed with equal opportunities funds from the German Research Foundation. Since then more and more new partners have joined the project and have decided to organise an annual METIS event for all participating research alliances, with a focus on gender equality and family friendliness. METIS is financed with DFG equal opportunities funds contributed by the individual research alliances.
The website project aims to preserve and present collective knowledge and ideas for gender equality activities, to make equal opportunities offers in and around Berlin more visible, and at the same time to promote an exciting exchange among research alliances on the topics of gender equality and family friendliness.
METIS is aimed first and foremost at the members of the participating research alliances. However, it is also freely accessible to the rest of the academic community and the public — to female researchers that are pursuing an academic career, to parents that seek more balance between academia and their family life, to supervisors that are looking for inspiration for equal opportunities measures, and to everyone who is interested in gender studies and diversity.
Further reading
METIS has recently been covered in various periodicals, including the HU Gender Blog, the CEWS Journal (page 40) and the Bulletin of the Center for Interdisciplinary Gender Studies at the HU (page 92).