IRTG 2403
Dissecting and reengineering the regulatory genome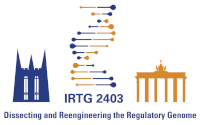 Research Programme
In an alliance between Berlin institutions (led by Humboldt Universität zu Berlin) and Duke University, the research group aims to teach the next generation of researchers a quantitative understanding of genome function and gene regulation within the context of biological systems.
Equal Opportunity Measures
The IRTG covers the costs of a professional babysitter outside daycare/school hours or when a child is sick through KidsMobil. The research group has also purchased a KidsBox for its members' use. 
In addition, the IRTG is currently preparing a workshop together with RTG 2424 CompCancer und IRTG 2290 with the theme 'Understanding implicit bias'. In the fall, the research group will offer a seminar only for women, with the goal of inviting female group leaders to hold a roundtable with PhD students.