Wednesday, 6 November 2019
Hilda Geiringer Lecture
Date and time
Tuesday, 6 November 2019
Venue
Erhard-Schmidt Hörsaal
Weierstraß-Institut für Angewandte Analysis und Stochastik
Mohrenstraße 39, 10117 Berlin
Organiser
International Research Training Group 1792
Language
English
The Hilda Geiringer Lecture Series has become a yearly tradition at Humboldt-Univsersität zu Berlin and honours the mathematical and statistical contributions of Hilda Geiringer (1893-1973). It has been organised since 2013 by the CRC 649 and since 2017 by the IRTG 1792 with the aim of inspiring and empowering female scientists by inviting internationally prominent female scientists to present their recent research and act as role models for  women pursuing academic and scientific careers.
The speaker at this year's Hilda Geiringer Lecture 2019 will be Xiaohong Chen, who is currently Malcolm K. Brachman Professor of Economics at Yale University and has previously taught at the University of Chicago, London School of Economics and New York University.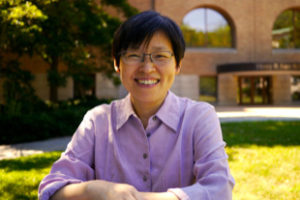 Chen is known for her research in penalised sieve estimation and inference on semiparametric and nonparametric models. She has published peer-reviewed papers in top-ranked general-purpose journals, such as Econometrica and Review of Economic Studies in economics, and also in top-ranked field journals in statistics and econometrics (Annals of Statistics, Journal of the American Statistical Association, Journal of Econometrics, Journal of Economic Theory, IEEE Tran Information Theory, Quantitative Economic, etc.). Furthermore, in 2017, Chen won the 2017 China Economics Prize, among others during her long and successful career.
For the Hilda Geiringer Lecture 2019, Chen will present on the topic of "Adaptive Testing in Instrumental Variables Model". During her talk she will introduce adaptive inference on a structural function in the semiparametric or nonparametric instrumental variables (NPIV) model. She proposes a direct test statistic for hypothesis testing based on a leave-one-out method, as well as an adaptive test statistic that provides a data driven choice of tuning parameters.
This event is oriented towards all aspiring female researchers who are interested in the topic of semiparametric and nonparametric models.
For more information about the event and how you can register, visit the event's webpage.
A review of the event can be found here.