Family and Research in Times of Corona
The current situation surrounding COVID-19 is affecting everyone in research — libraries, offices, and universities are closed, and the start of the summer semester has been delayed. But parents are facing an extra challenge. With schools and daycare facilities closed, parents now have the task of watching after and educating their children.
Below, you'll find some links with resources for members of Humboldt-Universität zu Berlin with families.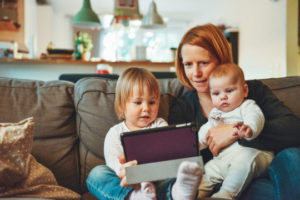 Updates from the DFG
The DFG announced that contracts for doctoral candidates and academic personell in research training groups as well as collaborative research centres can be extended under certain conditions. For more information and to read about additional allowances that have been made to research groups due to Corona, please see the announcement from the DFG.
For the latest updates from the DFG on the situation surrounding Corona, please see this page. And for all other information, please see the DFG's main Corona information page.
Updates to emergency childcare in daycare centres
The Senate Administration for Education, Youth, and Family has expanded the list of professions that are eligible for emergency childcare. From 27 April 2020, university instructors holding live digital classes and university staff working in emergency operation are eligible. However, the information provided by the Senate Administration serves only as a guideline; final decisions about emergency care are made by individual daycare centres. Please see this webpage from the Senate Administration for a complete list of eligible professions and further details.

Parental benefits (Elterngeld)
Parents working in system-relevant positions will be able to postpone the months in which they receive parental benefits (Elterngeld). They can now take these benefits even after their child is 14 months old, as long as they do so before June 2021. These postponed months will not have an effect on parental benefits related to other children. The partnership bonus, under which both parents work part time, will also not be affected if parents have worked more or less than planned due to the Corona situation. For further details, please see the Federal Ministry for Families, Seniors, Women, and Youth's website.
Financial support for families
The government has enacted a social protection package, which includes services for families that are having financial difficulties due to the coronavirus and the situation and measures surrounding it. This includes updated, easier access to the financial supplement for children (Kinderzuschlag). In addition, parents who are earning less due to the closure of schools and daycare centres can receive compensation under certain conditions. More information on the social protection package is available here.
Resources and tips for homeschooling and home office
Homeschooling, home office, and the multitasking challenge of keeping children entertained while working is new territory for many people. Below you'll find links with tips and inspiration.
Support from the HU Family Support Centre
The HU Family Support Centre is available to help you via telephone at 030-2093 20015 or email at familien@hu-berlin.de. Video calls can also be arranged.