Friday, 20 September 2019
- Saturday, 21 September 2019
I, Scientist
Date and time
Friday-Saturday, 20-21 September 2019
Venue
Technische Universität Berlin – Main Building
Strasse des 17. Juni 135, 10623 Berlin
Target group
Scientists of all genders from STEM fields
Language
English
Organiser
Lise-Meitner-Gesellschaft e.V. and TU Berlin
Schedule
Registration
Early bird registration until 6 June 2019
Regular registration until 5 August 2019
Register here
Accessibility
Information on childcare, sign language, wheelchair accessibility and more is available here.
Further Information
This conference is a response to the obvious gender imbalance in the Science, Technology, Engineering and Maths (STEM) fields. It aims to increase awareness of structural inequalities that have led to this imbalance as well as provide support and mentorship opportunities for young scientists.
In addition to talks, the conference also includes a "speed-dating" career fair to introduce participants to a range of career options in science, industry, and alternative fields. Facilitating networking among young female scientists is also a goal of the conference.
All genders are welcome at the conference. The issues that will be discussed affect everyone working in STEM fields, in academia, and in society. Questions about biases, work/life balance, career paths, how to manage family responsibilities, and fair treatment in the work place are important to people of all genders.
Conference sessions will focus on the themes of power abuse and harassment in science, being queer in science, mental health in academia, and bias and stereotypes.
The conference is organised by the Lise Meitner Gesellschaft e.V. and Technische Universität Berlin.
Further information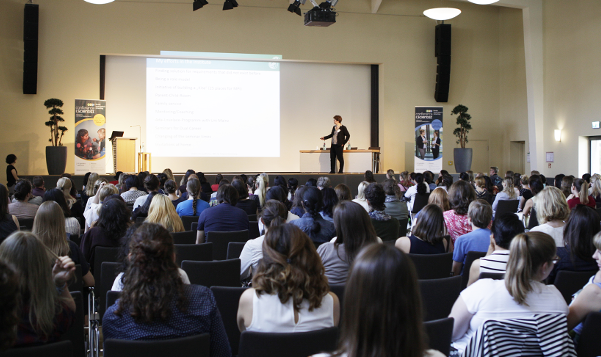 I, Scientist 2018. Photos: Lise-Meitner-Gesellschaft e.V.