Ruth Weber
Position: Postdoctoral Researcher
Discipline: Law
Field of research: Comparative Constitutional Law, European Union Law, Interdisciplinary Legal Research
Department: Juristische Fakultät, RTG 2483 DynamInt
Website: View here
Further reading: Gender in academic publishing, Editorial, International Journal of Constitutional Law, 2019, Pages 1025–1034
Photo: Courtesy of Ruth Weber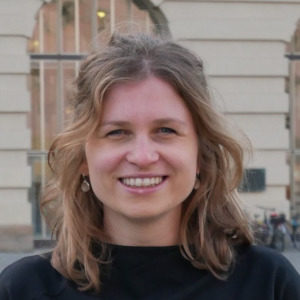 1. Tell us a bit about yourself. How did you get to where you are today?
My name is Ruth Weber. I completed my law studies at the universities of Freiburg and Paris in 2014 with the first state law examination. I worked as a research assistant at the Institute for Political Science and the Philosophy of Law as well as at the Institute for Media and Information Law at the Freiburg Faculty of Law. Furthermore, I was a visiting researcher at the French Constitutional Council. In 2018, I finished my PhD about "The Reasoning Style of the French and German Constitutional Courts" at the universities of Freiburg and Paris Panthéon-Assas under the supervision of professors Matthias Jestaedt and Olivier Beaud. My doctoral research was supported by grants from the German National Academic Foundation (Studienstiftung des deutschen Volkes), among others. Until the end of 2019, I was a legal trainee at the Berlin Court of Appeal (Kammergericht) and successfully completed the second state examination.

Since October 2019, I have been a postdoctoral researcher at DynamInt, a graduate program funded by the German Research Foundation (DFG). I am responsible for interdisciplinary cooperations as part of the graduate programme, such as with the Law & Society Institute Berlin and several other institutes. Besides that, I am working on my own research and am currently examining different possibilities for a topic for my habilitation.
2. When did you first become aware of the role of gender in your research environment or at your work place at university?
I became aware of the role of gender during my first semester at university in Freiburg: Whilst the majority of law students were female, only male professors held lectures in the first semester. There was a very simple reason for that: There were no female professors. Fortunately, change took place during my studies there and academia (also) took on a female face. Nevertheless, I still see it as a deficit that there is too little diversity among professors in law faculties. This certainly affects not only women, but also people with a migrant background, for example.
I also noticed that in many career discussions, male teachers often explicitly addressed the topic of "gender". At first glance, this is good in itself, as it shows awareness that there are more factors involved in a career than good qualifications. At the same time, I got the impression that my male colleagues needed less justification for certain career decisions, as questions of compatibility and family planning did not arise. This need for justification costs time and can sometimes create extra pressure. However, it is also true that such situations are also an opportunity to reflect on one's own wishes.
3. What challenges have you encountered in academia regarding equal opportunities?
Having more male than female professors at university already poses challenges for many female students: For example, examination boards are often staffed exclusively or at least by a majority of men. According to a recent study, women have worse chances than men to reach the next grade level in the legal state examination if the examination board is composed entirely of men. The difference levels off as soon as a female examiner is involved. Studies have even shown that gender-biased role models are perpetuated in legal exercises and exams; thus, female managers appear just as seldom as male secretaries (see this blog and here for more information). For teaching at university, this means that there is a lot of catching up to do: Not only should examination boards be filled more evenly, but examples should also reflect the diversity of society.
I also face certain challenges in research: Particularly at the beginning of my doctoral research, I very often found myself in discussion groups in which only men discussed with each other. That was strange, because there were about as many women as men among the doctoral students. Asked about their absence, women referred to the fact that they did not like the debate culture in these male groups. In fact, I believe that discussions between men or women alone are conducted differently than discussions in groups with mixed genders. I myself have also felt disadvantaged in discussions, for example, when a man repeated my previous statement verbatim and presented it as a new insight. I have also observed that, when women do participate in discussions, men's contributions are often longer and more expansive. However, I would also like to emphasise that such situations do not occur all the time.
4. What has been your personal experience with equal opportunities offers? What have you taken away from them?
Equal opportunities offers are essential for me: The inequalities I described above can only be eliminated this way. Personally, I have particularly benefited from women's networks. For me, they mean above all the opportunity to exchange ideas and find female role models. For example, I am involved in the "Deutscher Juristinnenbund (djb)", which, in addition to its own events such as panel discussions or conferences, also takes action in suggesting how the laws in Germany can be changed to enable real equality. The project "breaking through" seeks to portray successful female lawyers as role models and thus to establish an exchange of experience among successful women. Women's networks are an excellent opportunity to obtain advice and to keep an open mind for alternatives not yet seen.

I also volunteered in a project for women called Bike Bridge. The idea of this project is to teach women how to ride a bike and thus enable mobility and ultimately social participation. This cooperation with (mainly) refugee women broadened my horizon and thus gave me courage for my own path in academia.

5. What do you think still needs to be done?
Many steps in the right direction have already been taken. For example, Humboldt University has recently released a compendium on how to use language in a more gender-sensitive way. Language is only one example of how biases need to be overcome. Many programmes for almost every phase of an academic career give women the opportunity to exchange ideas and to overcome the insecurity that may exist due to gender. Last but not least, gender equality should not be understood as a female issue, because it affects all of society. This means that we all – regardless of one's own gender – must ask ourselves these questions and talk about them.
There is still much to be done: We need more female role models in leadership positions in academia. Greater diversity at the various levels leads to greater equality of opportunity for society as a whole. University and academia should represent the diversity of all social groups.