Caterina Cocchi
Position: Junior Professor
Discipline: Physics
Field of research: Theory of excitations in low-dimensional systems
Department: Institut für Physik and IRIS Adlershof at Humboldt-Universität zu Berlin
Website: View here
Further reading: "In Italien sind Physikerinnen keine Exotinnen"
Photo: Courtesy of Caterina Cocchi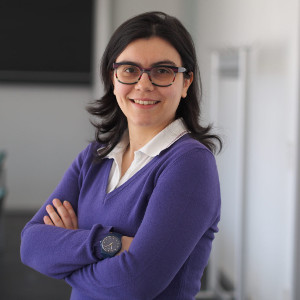 1. Tell us a bit about yourself. How did you get to where you are today?
My name is Caterina Cocchi. I was born in Modena, in Italy, 35 years ago and I grew up there. My alma mater is the University of Modena and Reggio Emilia where I studied physics (BSc. in 2006 and MSc. in 2008, both with top marks), and in 2012 I received my PhD in physics working in the group of Prof. Elisa Molinari with a thesis on electronic, optical, and charge transport properties of graphene nanostructures. In 2013 I moved to Humboldt-Universität zu Berlin where I joined the group of Prof. Claudia Draxl in the Physics Department. After a post-doc of about 4 years, in April 2017 I was appointed Junior Professor for "Theory of excitations in low-dimensional systems" at Humboldt-Universität zu Berlin. Currently, I lead a group of 6 enthusiastic young scientists who investigate light-matter interaction in different classes of materials, ranging from organic semiconductors to hybrid inorganic-organic interfaces.
2. When did you first become aware of the role of gender in your research environment or at your work place at university?
I grew up scientifically in a group led by a woman and largely formed by women. The supervising team of my PhD thesis was composed of 4 female scientists, which is quite unique in physics. Also in Berlin my supervisor was a woman. With this background, I never really felt my gender as an impediment to my career, nor did I feel the underrepresentation of women in my field as a burning issue. I became aware of gender issues in science and academia when I became a group leader myself. As a young, female professor I sometimes had the impression that certain colleagues would take me and my research more seriously if I were a man with more experience.
3. What challenges have you encountered in academia regarding equal opportunities?
In addition to the example mentioned above, as a Junior Professor I realized that there is a remarkable gender imbalance already among students in physics and related disciplines in German universities. This problem hinders the possibility of gender balance in research groups. For example, only one of my group members is a woman and she is not German. My feeling is that the issue of equal opportunities in academia has its roots at a much deeper level, namely in schools, in families, and in society as a whole. Gender issues in academia are one of the consequences of female underrepresentation. If girls are not encouraged to study scientific subjects like physics, it is very hard to imagine that the number of female professors in these disciplines will significantly increase in the near future, just by statistics. If about one PhD-holder out of nine achieves a full professorship, and if women represent, in an optimistic scenario, 30% of the total number of PhD-holders, it is evident that the bottleneck is very narrow for women reaching the top of the academic hierarchy.
4. What has been your personal experience with equal opportunities offers? What have you taken away from them?
In spite of the aforementioned underrepresentation of women, in Germany and in particular in Berlin I found an impressive offer for promoting equal opportunities in science. I am an alumna of the Berliner Chancengleichheitsprogramm, which co-funded my post-doctoral position at the Humboldt-Universität zu Berlin for 15 months between 2015 and 2016. Also my current position is established and financed in the framework of the same initiative. In 2018 I participated in the 13th edition of ProFiL-Programm, a program for promoting and supporting the careers of female scientists from the three Berlin universities with seminars, mentoring, and networking events. This year I joined the program WiNS-Adlershof as a mentor and just a few weeks ago I organized a summer school for young female scientists at different stages of their career, combining scientific topics with seminars for career development and networking.
All these experiences allowed me to grow professionally and personally and they had a crucial role in the development of my career in Germany. Most importantly, they have given me the opportunity to build a solid network of female scientists of all ages and to share my experience with them. Having female students address me as a role model represents one of the biggest successes of my career so far.
5. What do you think still needs to be done?
I believe that a lot has been achieved in the last decades and we must be happy about it. At the same time, we have to be aware that a lot still needs to be done. I mentioned already the need to dismantle gender bias among young children and teenagers. More generally, I believe that we should strive to grow a new generation of scientists who are open to diversity of any kind. Luckily, many people of my generation have this mindset already. Equal opportunities – for women, foreigners, and minorities of any kind – bring diversity which in turn brings a wealth of new ideas, creativity, and different points of view which promote science, culture and overall the progress of our civilization. Looking at "others" with curiosity and an open mind is the key for a peaceful and prosperous future.