Hilda Geiringer Lecture Series
The lecture series was established by CRC 649 and then continued by IRTG 1792 to honour the mathematical and statistical contributions of Hilda Geiringer. As the first woman to receive an academic appointment in mathematics at the University of Berlin in the 1920s, Hilda Geiringer was a role model for women in science. Distinguished female scientists are invited to the lecture series as guest speakers. Female postdocs and PhD students as well as qualified master's students are cordially invited to attend.
Read more about the past and future of the Hilda Geiringer Lecture in an METIS's interview with the founders of the lecture series, Prof. Dr. Wolfgang Härdle and Prof. Dr. Annette Vogt.
Find an interview on Hilda Pollaczek-Geiringer with Prof. Dr. Wolfgang Härdle, Prof. Dr. Annette Vogt und Dr. Alona Zharova in the magazine humboldt chancengleich here.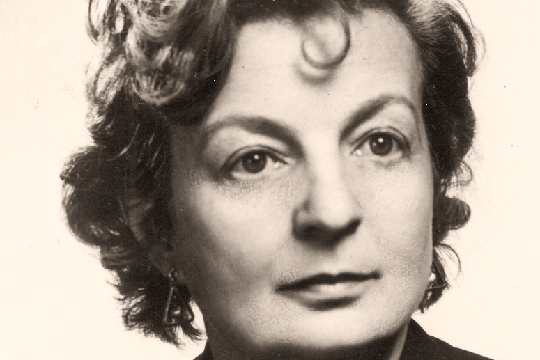 In memory of Hilda Geiringer
The lecture series is named after the remarkable German-American scientist Hilda Geiringer (1893-1973). She was the first female professor in applied mathematics in Berlin and the second in the field of mathematics in Germany. She is widely recognised as a pioneer of applied mathematics, statistics, and probability, as well as elasticity and plasticity of materials. Hilda Geiringer was an active member of the Academic Women's Association, which supported female students. In 2017, a street in Berlin Mitte was named after Geiringer in honour of her contributions.
Read more about Hilda Geiringer on a web page made by the School of Mathematics and Statistics at the University of St Andrews, Scotland as well as in the Jewish Women's Archive and in the Biographies of Women Mathematicians by Agnes Scott College. Find out more about the first Hilda Geiringer Lectures and Hilda Geiringer Postdoctoral Fellowship here.
Previous speakers
2013    Yoosoon Chang (Indiana University, US): "High dimensional time series and unit root tests" (Poster)
2014    Annette Vogt (MPI for the History of Science, D): "Statistics in Berlin and the work of Hilda Pollaczek…"(Poster)
2015    Bettina Rockenbach (University of Cologne, D): "Consumer Social Responsibility" (Poster)
2016    Nicole Branger (Westfälische Wilhelms-Universität Münster, D): "Asset Pricing" (Poster)
2017    Ying Chen (National University of Singapore, SIN): "Analytics on Nonstationary, Large-dimensional…" (Poster)
2018    Natalie Packham (Berlin School of Economics and Law, D): "Correlations in credit stress testing" (Poster)
2019    Xiaohong Chen (Yale University): "Adaptive Testing in Instrumental Variables Model" (Poster)
Lecture Series and Female Visiting Scholar Program
The IRTG 1792 aims to further support and promote female researchers. To achieve this, the research group has implemented a mentoring program that brings established female researchers together with young and aspiring ones. Female professors are invited as guest speakers and also as mentors and role models for doctoral students. Female researchers from the IRTG 1792 are supported by the established sabbatical priority line and a child-care assistance program. Female CRC postdoc and PhD students may apply for the Hilda Geiringer postdoc position, which enables female researchers to do research in the IRTG 1792 free of teaching duties.
The program pursues the following goals:
Recruitment of (upcoming) female scholars
Advancement of female scholars at all career levels
Improvement of the visibility of women in academia
Improvement of the compatibility of studies, family and work